Peabody Engineering has a full service custom design and fabrication department that can design and build a custom product to your specifications. Many applications require precise design parameters that fall outside of our standard offering. In these cases, we have the ability to fabricate a system for you using our wide range of materials, including Polyethylene, Polypropylene, PVDF, Fiberglass and Steel materials.
We offer engineering, CAD and specification services for a wide range of applications.
Our highly trained staff of plastic, fiberglass and steel fabricators can produce a product that will fit the most demanding applications. Some of the technologies we offer in our custom fabrication department are;
Thermopneumatic welding (purified air or nitrogen)
Thermal Fusion
Fiberglass fabrication
Aluminum, Steel and Stainless Steel fabrication
Custom machining
Rotational Mold Making and part production
We can produce a wide array of specialty products to suit many applications, including;
Fluoropolymer lining and coating (good for tanks, pumps, mixers, pipes and a host of other products
Engineered Seismic and Wind restraint systems
Fiberglass platforms, ladders, stairs and equipment support systems
High Temperature Fiberglass overwrap for temperatures to 180 degrees Fahrenheit (polyethylene tanks)
Armor-Shield Overwrap for tanks in extreme service applications
Custom Dual-containment tank systems
Methane Gas Recovery products; including condensate dropout tanks, collection sumps and storage tanks
Custom built fiberglass architectural facades, planter liners, work benches, movie props, etc.
Skid mounted filtration and pump systems
Automatic pump lift stations
Other customized OEM solutions
Do you have a special requirement for a custom rotationally-molded product or tank? Please contact customer service at 951-734-7711 or email sales@etanks.com to help you find a solution.

Click to Enlarge Photos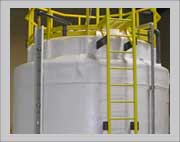 Click to Enlarge Photos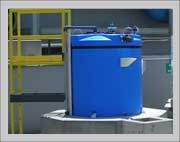 Click to Enlarge Photos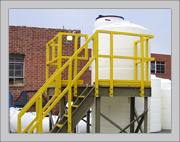 Click to Enlarge Photos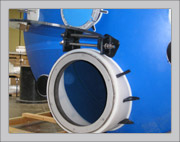 Click to Enlarge Photos